How Long Does It Take To Process An Order?
PRODUCTION TIME varies for Heat Transfers. Typically your order will ship in 1-2 business days, excluding weekends and holidays..
If you need to have an item before a certain date then please message me and you can pay for guaranteed shipping. We have no control over shipping companies or the weather, if you do not receive an item when you need it there will be no returns.
After placing the custom orders, an e-mail confirmation with the order details will be sent. Please check and confirm back so we can start production.
If you do not receive an e-mail, please check your spam filter or contact us for confirmation.
What About Shipping?
We're happy to offer free Standard Shipping on orders over $99!
Orders over $200 will ship with Express Shipping automatically. No additional shipping fees will incur.
Please review and ensure that you have entered the correct address. We are not responsible for non-delivery due to errors in the address that you provide.
And if the shipping address is in the remote Area list of DHL/UPS/FedEx, it will have an Remote Area Surcharge of around $50.
In this case, we will switch to USPS Express as it will be a faster option.
| Country | Standard Shipping(USPS) | Express Shipping(DHL/UPS) |
| --- | --- | --- |
| Unite Stated | 5-8 business day | 4-6 business day |
| United Kingdom | 4-6 business day | 4-6 business day |
| France | 5-8 business day | 4-6 business day |
| Germany | 5-8 business day | 4-6 business day |
| Italy | 6-8 business day | 4-6 business day |
| Spain | 5-8 business day | 4-6 business day |
| Canada | 8-12 business day | 4-6 business day |
Track Your Package
As soon as we start packing your order, we will send you a shipping confirmation email with a link to track your parcel online.
How to know if my address in the remote area.
Are you shipping to a major city? If so, your package is most likely not going to a remote area. But if you are shipping to a small town that's hours away from the nearest service center, then you may be shipping to a remote location. And a Remote Area Surcharge is applied per shipment when the delivery destination or pick up location is remote.
You can check your address on the courier's website. Below is DHL website.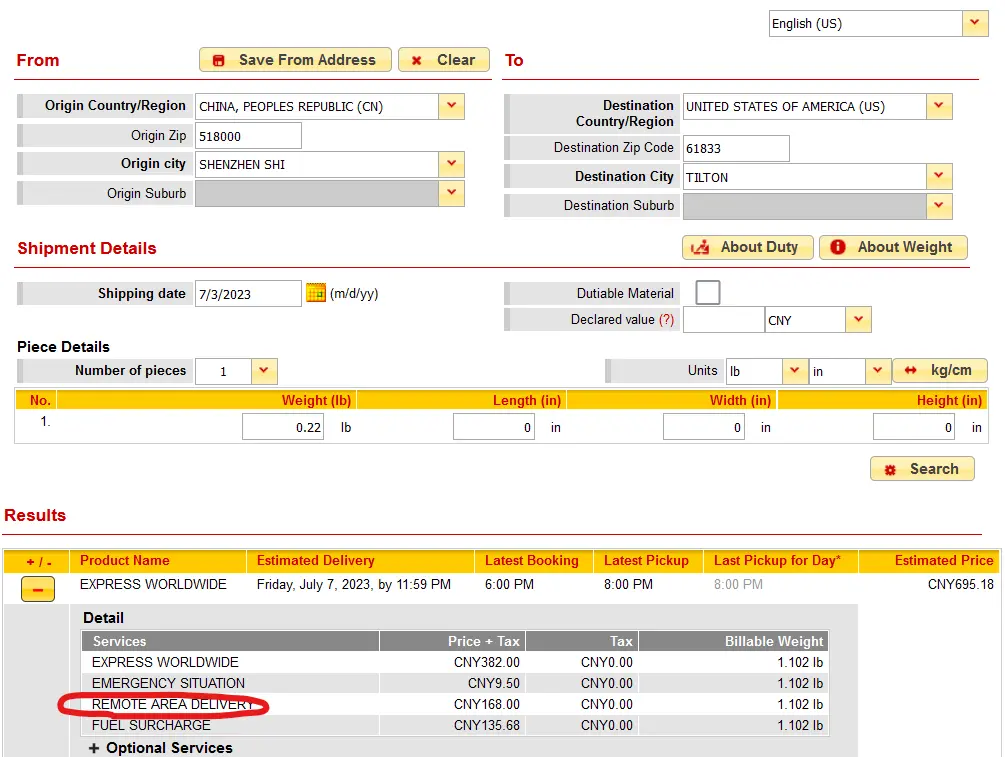 Click the "+" button on the bottom. If you see the REMOTE AREA DELIVERY surcharge, it means your address is in the remote area.