If you're looking into printing t-shirts, there are a few questions to ask before selecting a printing method.
—How many shirts to print?
—What type of material do you want to print on?
—How many colors are in your design?
After considering those things, it's only a matter of deciding which compatible printing style meshes best with your needs. And depending on the quality and number of shirts required, the result will be different.
In general, there are two different methods to custom shirts—heat transfers and direct to garment (DTG).
Heat Transfers
Heat Transfers, also known as plastisol transfers, is an alternative printing process to DTG. We will print your designs onto a transfer film. You only need a heat press to transfer the print to the garment; after peeling off the base film, you will see the graphic image transfer to the surface perfectly! It's the fastest and easiest way to decorate garments and gives the end-user the flexibility to apply on t-shirts, sweatshirts, tote bags, and more.
Learn more about heat transfers.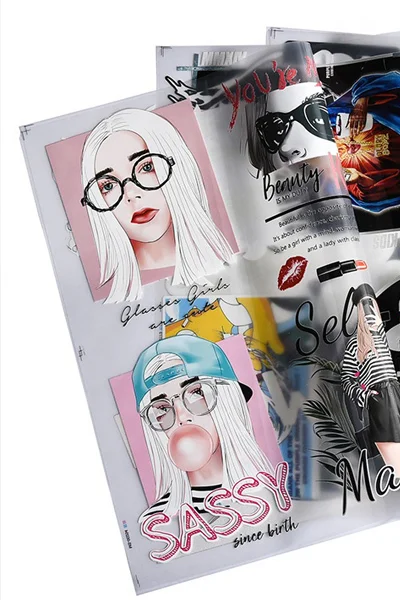 Direct to garment (DTG)
Direct to garment printing is easy to understand. Basically, it's inkjet technology and works very similarly to the way an inkjet printer does. The DTG printer inks are formulated to stick to garments instead of paper. There are small DTG machines which you can print shirts at home. But it's having a lot of Limited. Such can only print on 100% polyester materials, and the image will have a vintage or faded look.
Here we are talking about industrial direct to garment. Direct-to-garment in the manufacturer is a completely different thing. Before using this type of modified inkjet printer to print a design on your garment, your printing company will use a pre-treatment process called singeing. It will apply a heated press that compresses the fiber, and this pressing process flattens the fibers, making the printing process more effective.
Also, the print factory will use different inks formula depending on the material need to print. It's much more complete than you thought. That's why you can have the same high-quality print effect as the print factory if you use an inkjet printer at home. Industrial direct-to-garment can meet your requirement for a high-quality print effect, but it is recommended for events and projects requiring large quantities, which boasts huge value in speed and scale.
WHICH METHOD FITS YOUR NEEDS?
So, which method fits your needs? Now I think you may have the answer. If you need vast quantities, it's a good idea to source a clothing manufacturer to work out. From material to print, they can cover it all. Also, it's more manageable and cost-effective.
If you want to impress your customers with custom t-shirts or promotional products, it's better to start with heat transfers. Upload your artwork; we will print the transfers for you. You only need blank shirts and heat press and ready to go.
We are happy to offer two heat transfers options and have just added a state-of-the-art automatic screen print machine that allows us to print faster and have more colors per shirt. With bulk pricing options and the FASTEST order processing available, we are perfectly positioned to be a reliable supplier for your business.